Flash CS3 - Basics
This tutorial is meant for those new to flash and would like to use it but do not know how. It assumes no prior knowledge to knowing anything in flash. So if you don't know flash is and would like too, then read on!
Flash CS3 - Basics
This tutorial assumes no prior knowledge of Flash.

When you create anything in Flash, you work in a FLA file which is the Flash native file extension. To publish your flash content, you generate a SWF file and use the flash player. The FLA file is your source file in which you do all your work in Flash and the SWF is the final outcome of your work (.SWF).

First when you open Flash you are greeted with a "welcome screen" which gives you all the options for creating anything from movies, to websites, to slide shows, to mobile device content. You can choose "don't show this again" from the bottom left if you don't like that screen greeting you every time you open Flash.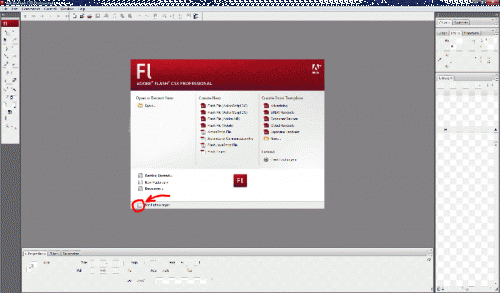 To identify the Flash CS3 interface, see the picture and explanations below: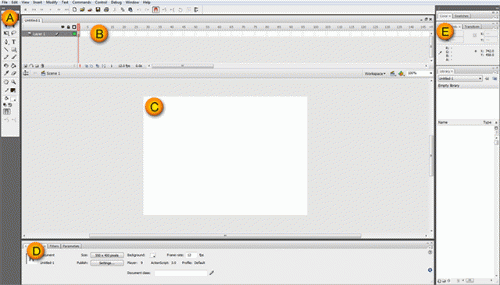 A. The tools panel contains the tools you will use to create and modify Flash documents. The tools panel is divided into sections: Tools, View, Colors, and Options. Click on a tool to select it. If you click just above the tools panel on the small arrows you can convert the tools panel into four sections as it was viewed in previous versions of Flash.
B. The timeline. This is used to specify the timing of each elements appearance and animation. Timelines can have several layers, with each layer containing different content. The timelines playhead (the red marker above the timeline numbers) indicated which frame is displayed on the stage. To display or hide the timeline, click on the button that says "Timeline".
C. The stage and pasteboard provide the area in which you will work. The stage is where you create al the content to modify your flash document. The pasteboard is the space outside the stage area (the grey area). Items on the pasteboard are not visible upon publishing your file.
D. The property panel displays the current selections properties. Any objects or tools will contain properties that you can modify to your liking and they will be found in this panel. The settings in this panel are context sensitive in that they will display properties according to what is currently selected.
E. Panels are used to monitor, arrange, and modify assets. You can show or hide each panel to your liking by using the window pull down menu at the top of the screen.
And there you have it. The Flash CS3 interface. Don't forget that you can learn more about Flash by clicking the links on each side of this tutorial!!
Enjoy!!
What did you think of this tutorial?