The concept of making phone calls over the internet for less than a traditional phone service is very exciting to me. As soon as the technology was seasoned, because initially there was zero 911 service, I started looking into different companies. With trial and error I have found the best way to choose a provider. Here is the summation of my experience.
If you're not sure what VoIP is, let me explain here. VoIP stands for voice over internet protocol, which is a long way of saying, that through an adapter issued by the VoIP provider, your voice is digitized and sent via packets over the internet. The amazing thing is that your digitized voice is then received by the person you're calling just like a regular phone service. The bonus is that the majority of VoIP providers also include many additional service features that used to cost extra with traditional phone service providers.
On average, VoIP providers charge $24-$30 per month for unlimited long distance and local calling. Other providers have annual rates which can knock those charges down to $14-$17 per month.
Sound good so far? I thought so too, so I signed up with the ill-fated SunRocket company on an annual contract. On the plus side, my contract was nearly over before they went belly-up with nary a word to their customers. The downside, is that they went belly-up with nary a word to their customers.
However, the 11 months of phone service prior to their demise was great! Sound and reliability were excellent. Unless I told my callers, no one knew that I was using a VoIP provider.
Given my great experience with SunRocket, I thought all VoIP providers would be pretty much the same; which is why I jumped to sign with the first VoIP provider who had a comparable annual plan to SunRocket. My only question was, "How long have you been in business?" After a satisfactory answer, I was a new Vonics.com customer.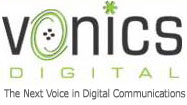 It wasn't long before I was sorry. Drop outs in service were frequent; sometimes even their website wouldn't come up. Customer service was atrocious. I started researching customer reviews and found that there were a lot of people who were more than a little disgruntled over their service. I waited longer than I should have to bail, thinking, that the company was going through growing pains with the sudden influx of old SunRocket customers, but Vonics never stabilized.

On to the next...Voip.com. I looked up reviews prior to signing on with Voip.com, but sadly, I didn't read enough of them. Long story short...their service was tolerable relative to what I went through with Vonics, but in the end the service became abysmal and I actually lost my service all together for about 4 days just before my phone number was ported over to the next company on my quest for the best VoIP provider.

PhonePower.com I struck gold! This time I reviewed numerous consumer feedback sites and paid careful attention to the number of good vs. bad reviews. Overwhelmingly the reviews were a big thumbs up for PhonePower.com. I am really pleased with their service. I had occasion during the set up of their adapter to call customer service and, this is shocking, they were KNOWLEDGABLE and HELPFUL!
So here is the best advice I can give when shopping for a VoIP provider, do your research. Don't believe the company's advertising hype. Pay attention to actual customer reviews and feedback. Check several review sites. They're easy to find with a Google search.

Tips: Unlimited calling doesn't necessarily mean unlimited calling. VoIP providers sometimes put a cap on number the of minutes per month. For instance PhonePower.com, with whose service I am quite enamored, has a limit of 2000 minutes for outgoing calls. That won't be a problem for me, but it might be for you. Read the terms and conditions carefully and ask questions if you don't understand.