How To Create Folders In The Quick Launch Toolbar
Use this tutorial to create folders in your quick launch toolbar, for easy access to your most used programs!
Step 1. First you need to enable the quick launch toolbar.
- Right Click on the Taskbar, go to the toolbars menu, and then select "Quick Launch" and click it.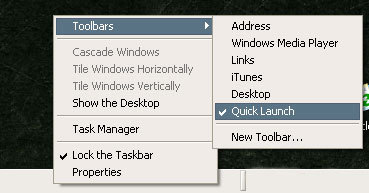 Step 2. Now you need to resize the Quick Launch toolbar so that it only displays 3 icons and the arrow
-Right Click on the Taskbar and click Lock the Taskbar, so that it is unchecked.
-This is shown in the picture in step 1. Just click it once so that the check mark is gone.
-You will want your quick launch toolbar to look like this:

Step 3. Now For Adding the Folders
-You will want to browse to this folder in the windows explorer:
"C:Documents and Settings--Your User Name--Application DataMicrosoftInternet ExplorerQuick Launch"
-Make sure that you change the "--Your user Name--" part to the actual user name that you use for windows.
- From here all you do is add the folders and shortcuts you want and your all set!
Step 4. The Finished Product
- Your finished product should look something like this: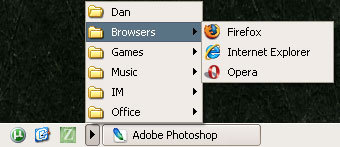 What did you think of this tutorial?