Interior decorating has taken new heights with the cost-effective styles and trends available at most local department stores. You can construct some versatile and chic domains on a variety of budgets and themes. Tropical chic is one of the most popular looks today. This is not the multi-colored jungle look you might choose for a child's room. Instead, it might be defined as "lush minimalism" since it mixes lots of texture and intricate pattern with simple details and a few large accessories. Take the following ideas, and use them to decorate in a tropical chic style.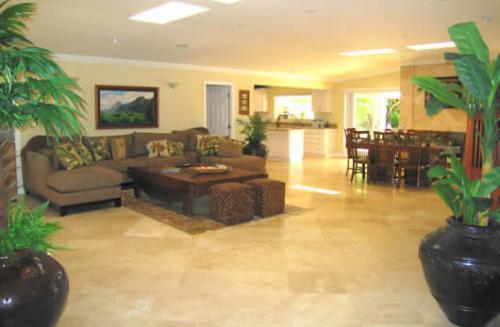 Things you'll need
sketch book

floor plans and sizes

decorating magazines to explore ideas

large plants

furniture, rugs, flooring, window treatments, accent pieces & accessories as needed

large pillows with tropical prints

paint and tools for painting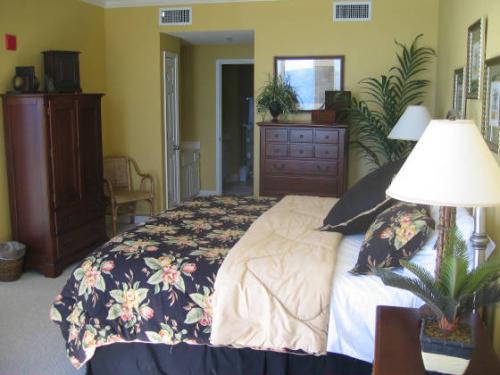 Step #1
Before exploring a tropical chic style, keep in mind some of these decorating dos:
• Do a sketch of your floor plan and record the room dimensions, window sizes and placements, and the location of special features, electrical outlets, and so on.
Take your floor plan with you when you shop.
• Do identify the focal point of the room (a fireplace, a view, a bed, an armoire).
• Do coordinate fabric and flooring choices before making any major purchases, and before choosing exact paint colors.
• Do purchase large elements first (rugs, draperies, upholstered furniture) whenever possible, and use the exact colors and style of those major pieces to coordinate all other choices.
Step #2
Here are some more decorating dos to remember:
• Do use the principle of repetition when planning shapes, colors, fabrics, and patterns. One red accent in a room may look like an afterthought whereas several red accents here and there will contribute to the color scheme.
• Do purchase the best quality furniture you can afford. Learn more about quality construction and materials that can prolong the life of furniture and make it a better buy in the long run. Avoid cheap furniture just because it has an appealing color or exciting fabric. Look for good lines, quality construction, and elegant details first.
• Do use line to underscore a room's style. Horizontal lines emphasize length and underscore a calm mood. Vertical lines will emphasize height, and diagonal lines emphasize space and provide a dynamic and exciting feel.
Step #3
Before focusing in on a tropical chic style, here are some of the decorating don'ts to be mindful of:
• Don't paint your walls then go out looking for fabrics to match. Paint can be mixed in any of a thousand colors, so select the final shades after upholstery, carpeting, and curtain fabrics are chosen.
• Don't paint a room without trying a sample of the color in the room. Tiny paint chips can be deceiving as to tone and depth of color, so always paint a test board to confirm your choices.
• Don't blow your entire budget on something that isn't functional, classic, or long-lasting, unless you're completely smitten and can't live without it. In general it's best to start with the basics and build from there.
Step #4
Here are some of the underlying elements and themes of a tropical chic style:
• Comfortable upholstered furniture is a must in a tropical room.
• Long horizontal lines underscore a casual look and add to a restful mood, while taller elements such as plants, screens, or artwork add a grand scale.
• Neutral tones including ivory, beige, camel, tan, deep brown, soft gold and pale yellows are the foundation of a tropical themed room. Greens are also a major element in shades that range from light sage to avocado and from yellow-greens to a green that is nearly black. Accents might be in dark brown, black, or even muted reds.
• Furniture in a tropical room is often large in scale and selected for comfort and utility. Accent pieces in wicker, bamboo, iron, and rattan will also fit well with the look.
• Fabrics should be soft and lush. Neutral solid chenille is perfect for the major upholstered pieces. Pillows, ottomans, and chairs might be done in jungle prints and leaf designs.
Step #5
Here are some more underlying elements and themes for a tropical chic style:
• Wood furniture pieces and wood flooring fit well into this look. Light woods can be used but add more weight to the room by mixing in some dark tables, lamps, or furniture feet.
• Animal designs figure prominently in a tropical room. Consider using both animal hide designs such as leopard spots and zebra stripes as well as animal images such as monkeys, lions, and elephants.
• Large plants, especially palm trees, are a perfect addition to a tropical themed room. Add them in corners and up light from underneath using inexpensive can lights.
• Window coverings should exhibit a natural quality. Bamboo or matchstick blinds, breezy linen panels, or plantation shutters are all choices that will fit into this look.
• Grass cloth, baskets, rattan, and wicker in natural tones add another layer of texture to the room. Consider these materials for wall coverings, cornice boards, folding screens, ottomans, and more.
Step #6
Here are some other elements and themes which can be used for decorating in a tropical chic style:
• Flooring might be hardwood, though tile or stone is another possibility. Accent the hard floor with area rugs of natural sisal.
• Artwork will look best if it sticks to the color palette of the room. Hang prints with stylized leaf designs, exotic looking palm trees, and jungle animals.
• Light fixtures can add some whimsy with decorations in monkey, leaf, or jungle accents. Dark lamp shades will add more weight to the room.
• Tableware looks might include natural colored stoneware, textured placemats, loosely woven fabric napkins, and sturdy glassware. Accessorize with wooden bowls, baskets, and bamboo.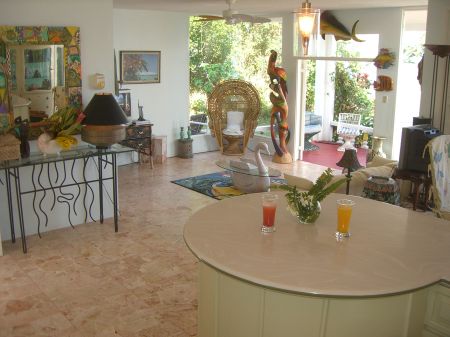 Tips
Common tropical motifs include stylized palm trees, large leafed banana plants, monkeys, animal prints, rattan, leather, and grass cloth that call all be used in fabrics, accent items, and accessories.

Because island prints, leaves, and animal prints are a feast for the eye, avoid overdoing the room's accessories. A few large plants, lamps, books, and some carefully selected large-scale accessories will usually be enough. Avoid lots of tiny little things and keep it simple and spare.