How to have good diction for public speaking

JamieTurner

Mar 22, 2008

Business
Speaking well can have a dramatic effect on your professional and private life. It is true that the impression you make on others often owes much more to how you speak—the pitch and expressiveness and clarity of your voice, for example—than to what you actually say. You can practice speaking from your diaphragm and changing the intonation and inflection that comes naturally. Here are some things for you to consider while you are practicing your diction for public speaking. Pay attention to them and implement them before speaking so they come naturally.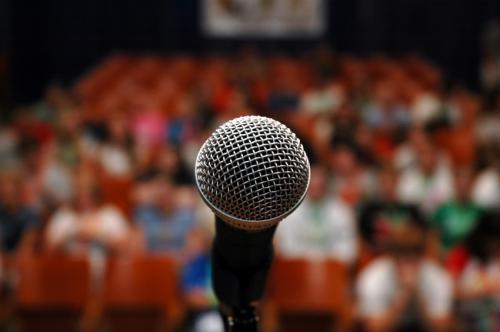 Things you'll need
tape recorder

dictionary

time for practicing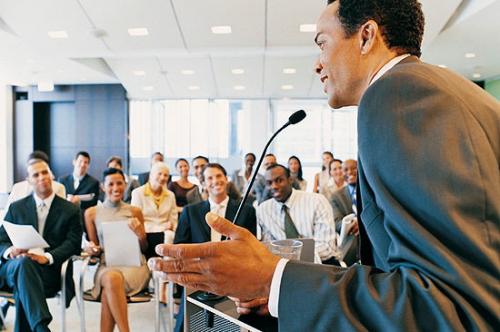 Procedure Steps
If your posture is poor, you will represent a poor image of yourself. Good posture is the natural alignment of the body. When sitting, you should be able to draw a straight line from the ear to the shoulder to the hipbone, and if you are standing, from the hip down to the knee. The act of clenching your fist can stifle your voice, so it is essential that you be calm and relaxed at all times.

Breath is the source of energy of voice and speech. A few don'ts: First, don't take a deep breath before starting a speech, your instinct will be to hold your breath.

Conversely, a voice underpowered by drawing too little breath would tend to come across as excessively quiet. Uncontrolled breathing can also affect your ability to communicate; your message will pale beside the jerky style of your delivery. Well-controlled breathing can bring stress under control. Breathing exercises help develop your voice control.

The way you breathe adversely affects your pace and rhythm. By drawing in large amounts of oxygen into the lower half of your lungs, you will not need to pause for breath so often. Keep a steady flow of words; a continuous chatter or a slow, ponderous speech may be extremely annoying. Pausing at natural breaks like

punctuation, will give you a moment to think about what you are going to say next.

Every voice has a natural middle note. Some speakers pitch their voices too high or too low due to tension. Learn to identify and adapt your middle note, you will sound most natural. Practice using pitch to reflect the emotional content of your speech.

The placing of an emphasis - the amount of stress put in a syllable - often affects the meaning of a sentence. For instance, bring down your hand only on words that need emphasizing. Caution yourself against exaggerated actions.

Faulty pronunciation stems more commonly from bad habits of the speech organs rather than malformation or malfunctioning. A person's accent, really a whole set of speaking habits, often marks him out as a 'faulty' speaker. There are many words having two or more pronunciations. Some people suffer a crisis of confidence when faced with the choice and instead switch to a different -often a far less appropriate one. In order to avoid this embarrassment, consult a good dictionary for guidance and you can speak confidently the next time. Remember, only practice makes you perfect.

To make an impact on an audience, clear structure and well-judged content need to be matched by effective delivery. Try to look at your audience most of the time. Good speakers always communicate an element of spontaneity. Use short sentences and simple language. Check that you are making your points crisply.

Make a tape of yourself giving your speech then listen to it critically.

Make notes of where you can change your voice to better get your point across then pencil that into your notes.

Tape recording your speech can also help you identify weak spots and places where you may need improvement. Now, most people hate the sound of their voices on taped recordings, but remember that we hear our own voices differently than other people do. Just look for places where you can improve rather than concentrating on the whole picture. Pick out pieces and the whole will come together quite nicely!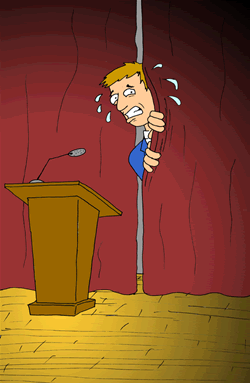 What did you think of this tutorial?