How to make a bathroom more beautiful and elegant

JamieTurner

Mar 1, 2008

Home & Garden
The bathroom was originally designed to be purely functional, now it's a place for pleasure and luxury. Great enjoyment can be gained from turning necessity into a sensuous act. One room away from your bedroom retreat, the bathroom becomes an inner sanctuary to refresh and renew yourself. How can you enrich this room and the time you spend in it? Take a step back and look at the atmosphere of your bathroom to make it more attractive and functional, more beautiful and elegant.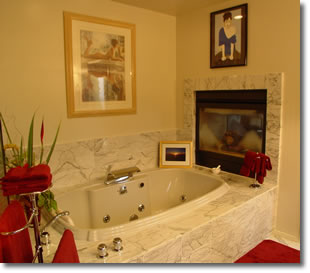 Things you'll need
Fragrant bath additives

Live potted plants that require low light

Bide

Tub shelf

Wall mirror tiles

Side table

Baskets

Terrycloth towels and robes

Herbal products

Mirrored medicine cabinet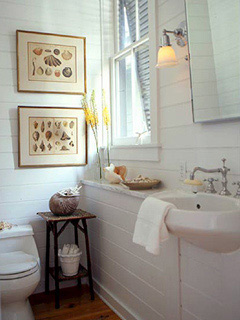 Procedure Steps
Plants do well in bathrooms since lights are frequently on and because of the humid atmosphere. Keep a gardenia on the bathroom counter, and it will make the bathroom smell heavenly. On the tile window ledge you might try keeping something that's always in bloom, such as little pots of primroses.

Enough cannot be said about having a bide to use with your toilet. After your first experience using one, you'll wonder why this never caught on in the

U.S.

as it has in

Europe

. This is especially true since there are now inexpensive bides sold at most hardware stores that can be easily installed into the existing toilet with little or no trouble at all.

Fragrances from creams, lotions, sachets, bath oils, foams, talcums, colognes, perfumes and splashes are all simple yet subtle ways to add elegance to your bathroom.

Order is restful; there is nothing attractive about personal supplies out on display. Somewhere in the bathroom there should be ample cupboards for safely warehousing necessities. A closed cabinet under the sink is practical, or a floating sink counter can work even better.

Get a rack that fits across the tub to hold your fragrant bath products, cleansing supplies and a mirror. A brass and glass side table will also work well as it sits next to the tub.

Pamper yourself and the time you spend in the bathroom with a thick terrycloth bathrobe. Put it on when you are wet from the tub or shower and pat yourself dry. Also, take a look at buying or making terrycloth bath mitts to match your robe or towels.

Indulge in a new set of brightly colored terrycloth towels. It's fun to use different colored towels for winter and summer. Pastel colored ones like soft pink, pale blue, lime and peach are perfect for the warm months. Ultimate luxury comes from pure white towels, but they must be spotlessly blue-white.

Plan bath "menus." Wrap peppermint, lemon, rose or jasmine tea in a cloth pouch tied with a ribbon, and drop it into your warm bathwater. Vary the ritual by dropping a muslin sack with cloves and cinnamon into the water. Once a week have a Pine Spa by adding a Pine Spa oil under hot running water, and light a pine scented candle.

If your able to install a new medicine cabinet, consider a mirrored one with a center panel that's stationary and has two side wings that hinge toward the center. This allows for seeing your profile while increasing the light for shaving or applying make-up.

Dry the flower petals from your discarded bouquets and keep them in a pretty basket. Add drops of perfumed oil, and the moisture will enhance the fragrance.

Take stock of all the hardware in your bathroom. It's usually possible to change the shower and tub handles without going to a great expense.

If your bathroom is tiny, mirror the walls in order to make them seem more gracious in size. Mirrors are revealing while they lighten and brighten the most ordinary bathroom.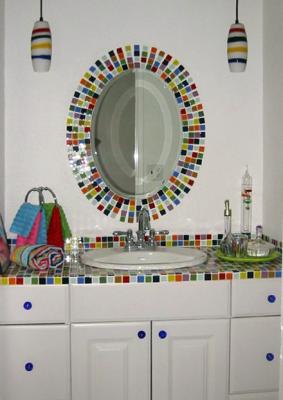 Tips
When the bathing ritual goes smoothly, the path is made clear for imagination and creativity. Make this little room into an "idea room"—a place to go to be alone with your uninterrupted thoughts. Running water calms, soothes and fires your inner thoughts.

The more we care about small details, the more in tune to beauty we become. Pleasure and comfort come from the orderly and attractive surroundings in our lives. Let your eye be the judge and train yourself to see with caring perception.
What did you think of this tutorial?