How to make a beautiful kitchen

JamieTurner

Feb 26, 2008

Home & Garden
The kitchen is often the heartbeat of a home. Of all the rooms in our lives, the kitchen can feed the soul and become the comforting place to be at any time of the day. Even when size and financial constraints are an issue, it's easy to make a kitchen beautiful. By focusing on the aesthetic and sensuous elements of your kitchen, along with remaining practical and organized, you'll make the process of meal preparation and presentation more satisfying.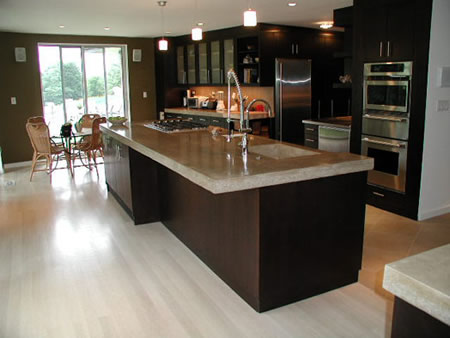 Procedure Steps
One of the best ways to make a kitchen beautiful is to grow plants there. If you have the space for it, build a ledge under you kitchen window. A 12-inch deep ledge can hold geraniums, edible flowers and pots of cooking herbs. You can also ripen fruits and vegetables here. For a dramatic look, place hanging planters near your kitchen windows for fresh garden tomatoes or grapes.

An oversized clock in a kitchen is very nice. It can be seen from anywhere to be sure that your baked apple pie is pulled just right from the oven, and that your children get off to school on time. A large wooden and brass ship's wheel clock can be very charming, made even better when it has a proper second hand for quick timed recipes.

Hang lithographs and paintings on your walls to make your kitchen beautiful and more unique. Select pictures that represent your own personal style and tastes for the culinary arts. Whether it's a picture of upturned pasta over a toddler's head or a photographed vegetable bouquet with cheese and wine, you'll have the subtle inspiration needed to prepare your friends' and family's meals.

In between the pictures on the walls you can hang various sizes and shapes of baskets. These are very useful for food presentation too. Large, square-shaped baskets work well for tossed salads when you place a bed of red leaf or radicchio lettuces around the edges. You can use the same type of baskets for serving hors d'oeuvres or breakfast pastries, and rounder deep ones work well for warm biscuits or dinner rolls wrapped with white or colored linen. Clean up is no problem with hot water and mild soap, letting them air dry in the dish rack.

A variety of different sized wooden bowls set onto your counter tops will not only accentuate your beautiful kitchen, but they're handy when you want to use them as a mixing or service bowl. Wooden utensils are also outstanding in the kitchen for décor and usage, they're inexpensive and pleasing to the eye. Find different sized and shaped ones at thrift stores or on your vacationing travels, variety is the key here. Standing them up in a ceramic or ironware crock makes for easy access while giving your kitchen the warmth and charm of a country home.

Keep an eye out for all types of metal pots and pans as you shop around town. Mix and match the silver and gold colored metals of bronze, copper and stainless steel. Hang these on your walls or on racks above your oven and counter tops. Some of these can be used as proper cooking tools, or you can find some inexpensive show pieces that will accent your kitchen nicely.

Variety of china and plate ware will elevate ordinary routines into special moments and really make your kitchen beautiful. Don't worry about getting the complete serving set of sixty-odd pieces in the same pattern. Course after course, meal after meal with the same pattern can become quickly boring. To be inspiring, it's best to have a assortment of plates and dishes in varying styles so you can choose the one that best suits the dish you are serving. Glassware can be a success for almost anything, and the loveliness and simplicity of pure white plates are always classic.
What did you think of this tutorial?