How to make a blueberry lemon cake

JamieTurner

Mar 1, 2008

Food
This striking cake is a study in blue and white. Its lively flavor comes from the simple combination of lemony whipped cream and fresh blueberries. Serves 12.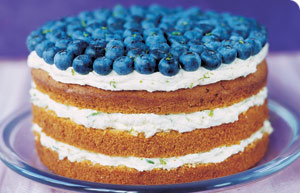 Things you'll need
hand-held electric mixer

double-boiler pot

pastry bag with a #7 star tip

flour sifter

wire whisk

1 9-inch round cake pan

packaged white cake mix

5 large eggs

¾ cup sugar

¾ cup fresh lemon juice (about 6 lemons)

8 tbsp. (¼ lb.) unsalted butter

2 cups heavy whipping cream

4 cups (baskets) fresh blueberries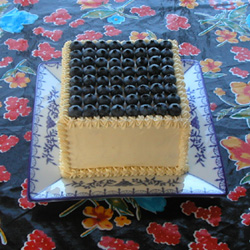 Procedure Steps
Bake a white cake mix according to the package directions, or bake your own favorite recipe. Remove the cake from the pan, place on a platter and let it cool for several minutes. Trim the top and bottom of the chocolate cake and split it into two equal layers. Set aside.

In a bowl, whisk together the eggs and sugar until light. Add the lemon juice and continue mixing until well blended. Pour into the top of a double boiler and stir constantly over simmering water until very thick. Remove from the heat and stir in the butter. Transfer the lemon cream to a bowl and refrigerate until cold.

Whip the cream to soft peaks with a mixer (or by hand, if you can!). Fold in the chilled lemon cream a bit at a time with a wooden spoon or rubber spatula until smooth and evenly colored. Set aside in the refrigerator.

Wash and drain the blueberries. Spread them on a paper towel to dry. Place one of the cake layers onto a cake platter. Using a flexible spatula, spread about ¼-inch of the lemon cream evenly over the top. Using ½ of the blueberries, cover the cream with a layer of the berries, gently pressing them into the cream. Cover the berries with another layer of the cream.

Place the scond layer of cake on top of the first one. Set aside about 1 cup of the cream for decorating and spread the rest evenly over the top and the sides of the entire cake.

Spoon the reserved cream into a pastry bag with a #7 plain tip and pipe out 12 dome-shaped mounds (about the size of a quarter) evenly spaced around the perimeter of the cake.

Heap the remaining blueberries in the center of the cake. Refrigerate until 30 minutes before serving.
Tips
What did you think of this tutorial?