How to make a Monte Cristo sandwich

JamieTurner

Feb 29, 2008

Food
Top of any sandwich connoisseur's favorites is this classic delight, a hybrid of French toast with grilled ham and cheese. Restaurants vary from place to place about exactly how this is cooked, whether on a flat top grill or in a deep-fat fryer. The latter is much quicker but also more greasy, and most people don't have the machinery in their kitchens. This preparation method takes almost twice as long to make, but it's healthier and naturally more flavorful. Any meal you make just doesn't get any better than when you make a Monte Cristo sandwich. Serves 2.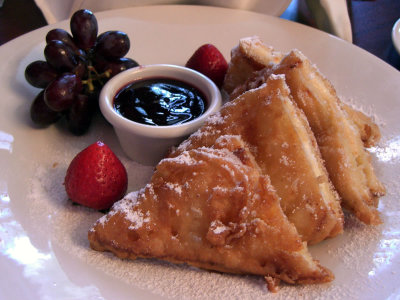 Things you'll need
3 pieces of thick sliced egg bread

2 slices of Swiss cheese

2 slices of American cheese

4 oz. thinly sliced turkey breast meat

4 oz. thinly sliced sandwich ham

3 whole eggs

4 tbsp whole unsalted butter

4 oz strawberry jam

4 oz sour cream

maple syrup, as needed

powdered sugar, to garnish

Large non-stick fry pan

medium sized mixing bowl

4 to 8 long wooden toothpicks
Procedure Steps
Beat the eggs in the mixing bowl. Build the sandwich from the bottom up by following this order: 1 piece of bread, 1 slice of Swiss cheese, all the turkey, 1 slice of American cheese, 1 piece of bread, 1 slice of Swiss cheese, all the ham, 1 slice of American cheese, 1 piece of bread.

Press firmly down to hold, then cut the whole sandwich diagonally down with a sharp slicing knife. The turn the sandwich and cut it diagonally one more time in the other direction. There should be four long triangular shaped parts of the sandwich. Secure both ends of all the sandwich pieces with the wooden toothpicks.

Put the pan on a medium-high burner, and add all of the butter. Let the butter bubble and melt, but not burn.

One by one, take each of the parts of the Monte Cristo sandwich and dip them into the bowl with the eggs. Roll the pieces around in the eggs completely then carefully put each one into the hot fry pan. Reduce the heat to medium, and cook each piece on all three sides until golden brown.

For each person, put 2 pieces of the sandwich on a plate when it's ready to serve. Remove and discard the toothpicks. Spoon 2 oz. of the jam onto each plate or a small dish. Do the same for the sour cream.

Sprinkle the tops of the sandwiches liberally with powdered sugar. Serve the maple syrup on the side. Garnish the plate with pieces of fresh fruit.
Tips
The sandwich can be built days before hand and held wrapped tightly in the refrigerator.

As the sandwich is turned in the pan to cook on the other sides, more butter may have to be added.
Warnings
What did you think of this tutorial?