How to make broiled halibut steaks

JamieTurner

Mar 3, 2008

Food
Halibut is one of the finest eating of any fish in the world. It's meat is firm and flaky when cooked, and has a delicate flavor that will please anyone. It comes to the market weighing anywhere from 25 to 300 pounds. From the largest fish, steaks are out of the question; these big ones are cut into fillets. From the smaller fish, either steaks or fillets are available. If you can find it, fresh spring halibut from Alaska is a special treat. Out of season, you'll have to purchase fresh-frozen from your grocery store. Either way, buy the thickest steaks possible. Serves 4.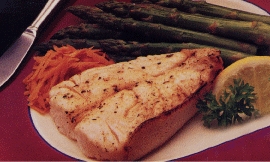 Things you'll need
broiler pan

small whisk

wide metal spatula

1¼ cups

Dijon

mustard

¾ cup extra-virgin olive oil plus additional for rubbing on the broiler pan

salt and pepper to taste

4 halibut steaks, fresh (if available), 1½-inches thick, 1 lb. each
Procedure Steps
Remove the broiler pan from your oven. Preheat the broiler in the oven. Rub some olive oil liberally onto the broiler pan.

Place the

Dijon

mustard in a medium-sized mixing bowl. Slowly whisk in the olive oil until the mixture is smooth.

Salt and pepper the halibut steaks to taste, then place them onto the broiler pan. Spread about half of the

Dijon

mixture over the tops and sides of each steak using a spoon or a brush.

Place the steaks into the oven about 3 to 4 inches below the heat and broil until the tops are browned and puffy, about 6 to 8 minutes.

Carefully remove the boiler pan from the oven and turn each of the Halibut steaks over onto the pan with the spatula. Spread the rest of the Dijon mixture over the tops, and return them back to the oven. Continue broiling until the tops are fairly brown and puffy, about another 6 to 8 minutes. Remove the steaks, place each on a plate and serve immediately.
Tips
Always wash the fish under cold water and pat it dry with a towel before beginning to prepare it.

Never freeze the fish unless absolutely necessary because the quality will never be as good as when it is fresh.

You may like to drizzle a little more of the olive oil over the cooked steaks before eating, or try some white truffle oil if you have it.

Serve simply with boiled new potatoes and a crisp chardonnay.
Warnings
Cook the fish as soon as possible after purchasing it. Keep it wrapped in the refrigerator for no more that 2 to 3 days.

Always wash down the cutting board and working surfaces of your kitchen with a dilution of hot water and a little bleach when you're finished preparing the fish.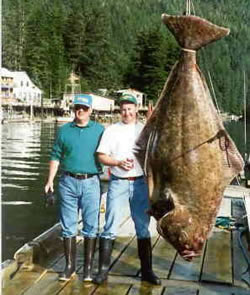 What did you think of this tutorial?