How to make grilled swordfish steaks tapenade

JamieTurner

Mar 10, 2008

Food
Swordfish can run up to 13 feet long and weigh close to a thousand pounds. It has a firm, dense, compact structure with flesh that has a tan or coral shade. Swordfish has become one of the best-loved fish because of its meaty, almost chicken-like texture and "un-fishy" flavor that everyone can enjoy. Its heartiness makes this a fish that can be used with any bold seasonings without the fear of spoiling its natural heartiness. This recipe holds nothing back, flavor-wise, with the last minute addition of Tapenade: a Provencal paste made from olives, anchovies and garlic. Serves 6.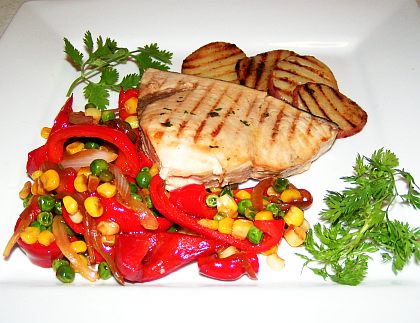 Things you'll need
BBQ grill with a moderately hot charcoal or mesquite fire

sharp French knife

food processor (not required but easier for making the tapenade)

wide metal spatula

shallow baking dish large enough to hold all of the fish in a single layer

rubber spatula
FOR THE TAPENADE:
½ lb. pitted black olives, preferably from

France

2 anchovy fillets, rinsed

1 small garlic clove, minced

2 tbsp. capers

4 or 5 fresh basil leaves, chopped

1 tbsp. lemon juice

2 tbsp. extra-virgin olive oil
FOR THE SWORDFISH:
¼ cup plus 1 tbsp. olive oil

1 tbsp. plus 1 tsp. balsamic vinegar

3 garlic cloves, crushed with the side of a knife

6 swordfish steaks, fresh (if available), 1-inch thick, 8 oz. each

1 tbsp. minced fresh parsley for garnish

Procedure Steps
Take all of the tapenade ingredients and place them into the food processor. Turn it on at a medium speed, and process for 1 to 2 minutes. Stop the machine and scrape the sides and bottom with the spatula. Process it again for another minute until it's smooth. Put into a covered dish and refrigerate until needed.

If you don't have a food processor, use a sharp French knife and a cutting board to chop all of the ingredients, except the liquids, for about 5 minutes or until all is completely smooth. Then add the olive oil and lemon juice, and mix well.

Stir together the olive oil, balsamic vinegar and garlic in the baking dish. Add the swordfish steaks, turning them in the marinade several times to coat well. Let them marinate, covered, at room temperature for 30 minutes, turning them once during that time.

Once the fire is sufficiently hot enough, remove the swordfish steaks from the marinade and grill them for 4 to 5 minutes on each side, or just until they are cooked through completely.

Transfer the swordfish steaks to a platter, and liberally slather the tapenade all over each piece. Garnish with the chopped parsley, and serve immediately.
Tips
If you're not sure that the fish is done to your liking, remove one and pierce the middle with a knife to see inside. Or use a meat thermometer to gauge the internal temperature, which should be between 140 and 160 degrees.

Never freeze the fish unless absolutely necessary because the quality will never be as good as when it is fresh.

There is often a large dark spot in swordfish meat, and some people like to avoid eating it. This makes good health sense because these spots are fattier and would be the repository of any chemicals that the fish has ingested during its natural life. However, if you're not too concerned about these things, you'll find the meat here more flavorful.

Because of its heartiness, swordfish is one of the few seafood dishes that can be eaten with a red or a white wine.
Warnings
Be careful to not overcook the fish as it will become very dry.

Cook the fish as soon as possible after purchasing it. Keep it wrapped in the refrigerator for no more that 2 to 3 days.

Always wash down the cutting board and working surfaces of your kitchen with a dilution of hot water and a little bleach when you're finished preparing the fish.
What did you think of this tutorial?