How to write a winning description for your Ebay Items
Ebay is a great place to make money. Writing a good description is a must to make your item stand out and be noticed. The proper use of words in describing your merchandise can be the difference between making a sale or being lost in the crowd.
Ebay is a fun and profitable way to earn money. These days it seems that everyone is doing it. Writing good descriptions is a must. Knowing what to include and trying to anticipate questions is a big part of it. If you are not including enough information the chances are you aren't recieving the attention your merchandise deserves.
You have already found the catagory your merchandise fits into.

You have uploaded your picture

Now you are at the description part of the process...knowing what to include is essential.

I will take you through the process I used when listing this winning auction.
Tips to writing winning descriptions for Ebay Auctions
I hope that this helps you on your way to Making Money on Ebay.
Thanks for reading and have a great day!!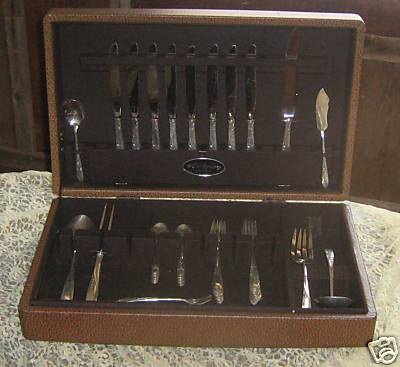 Sterling Silver Set of 8
Easterling Rose Spray Pattern
This lovely set of sterling silver was purchased in 1960. The sterling has been stored in original chest since purchase. Easterling's Treasure Chest is made of metal and has 150 peice capacity. Outside is dupont fabricord in Baby Ostrich Design. Made of 20 gauge steel it is both fire and flood resistant. Air tight and dust free cover seal. Sulphur free...Tarnish proof lining...patented knife holder. Easy clean. The chest is in great condition, there is a few small blemishes on the top of lid. It doesn't affect the storage compacity of the chest or the wonderful look of it. The lining inside the chest is in great condition. All clasps are tight...all holders are as well.
Along with this lovely set comes all the papers that originally came with the set at purchase. The papers include The Easterling Company Guarantee; Diagram of how to place your Sterling Silverware in the chest: A little blue pamplet on keeping your Eaterling Sterling Silver beautiful by daily use and a little care; Red pamplet touting the beauty of Rose Spray in the magic beauty of Easterling Sterling, mentioning Easterling Fine China and the complete choice of flatware in the Rose Spray Pattern. Including 3 envelopes addressed to the Easterling Company at 330 South Wells Street Chicago 6, Illinois (4 cents postage); A cookbook offer sponsored by saran wrap..Food from Famous Kitchen's Cookbook priced at $1.
The set includes the Easterling Silver Polishing Cloth with directions on use still in it's original plastic jacket. The polishing cloth has been used but well taken care of...it is still up for years of polishing.
The knives are stored in a patented knife holder under the lid. Spoons and Forks should be stored in the 2 tarnish resisitant cloth bags that are in pristine condition. Also comes with 2 tarnish resitant cloth dividers for the serving peices.
The owner of this set followed these directions and this set is in great condition. There are minor scratches from use.
Set includes:
1 Cocktail Fork
1 Gravy Ladle
1 Steak Fork-Carver
1 Butter Knife
1 Sugar Spoon
1 Serving Fork
2 Serving Spoons
8 Knives
8 Dinner Forks
8 Salad Forks
16 Tea Spoons
This is a very nice set of Sterling Silverware
Wonderful starter set
Thanks for looking and have a great day!!
What did you think of this tutorial?